Survol
Backdoor.OSX.Mokes.a est une version pour OS X découverte récemment de la backdoor multiplateforme qui peut fonctionner sur l'ensemble des principales familles de système d'exploitation (Windows, Linux, OS X). Nous avons déjà publié une analyse des versions Windows et Linux.
Cette famille de malwares est capable de voler différents types de données sur les ordinateurs des victimes (créer des captures d'écran, intercepter les flux de données audio et vidéo, copier des documents Microsoft Office, enregistrer les frappes au clavier).
La backdoor peut également exécuter des commandes arbitraires sur l'ordinateur de la victime.
Elle communique à l'aide de l'algorithme de chiffrement fiable AES-256-CBC.
Antécédents
Au mois de janvier de cette année, nous avions découvert une nouvelle famille de backdoors multiplatformes pour ordinateurs de bureau. Au début, nous avons découvert des versions du malware pour Linux et Windows et nous avons enfin détecté une version de Mokes.A pour OS X. Elle a été programmée en C++ avec Qt, un cadre multiplateforme de développement d'applications lié statiquement à OpenSSL. Le fichier a une taille d'environ 14 Mo.
Penchons sur ce nouvel exemplaire.
Backdoor.OSX.Mokes.a décompacté
Nous avons mis la main sur un fichier avec un nom décompacté, mais nous supposons que dans la nature, il est compacté, à l'instar de la version pour Linux.

Lancement
Au premier lancement, le malware se copie dans le premier dossier accessible de la liste suivante, dans l'ordre indiqué :
$HOME/Library/App Store/storeuserd
$HOME/Library/com.apple.spotlight/SpotlightHelper
$HOME/Library/Dock/com.apple.dock.cache
$HOME/Library/Skype/SkypeHelper
$HOME/Library/Dropbox/DropboxCache
$HOME/Library/Google/Chrome/nacld
$HOME/Library/Firefox/Profiles/profiled
Conformément à son emplacement, le malware crée un fichier PLIST qui garantit son incrustation dans le système :

Ensuite, il établit la première session de communication avec le serveur de commande du malware via HTTP sur le port TCP 80:

La chaîne user-agent est codée en dur dans le fichier binaire et le serveur répond à cette requête de pulsation en envoyant le contenu au format text/html d'une taille de 208 octets. Ensuite, le malware établit une connexion chiffrée via le port TCP 443 à l'aide de l'algorithme de chiffrement AES-256-CBC.

Fonction de la backdoor
La tâche suivante du malware consiste à déployer les fonctions de la backdoor :

Interception des flux audio

Surveillance des disques amovibles

Création de captures d'écran (toutes les 30 secondes)

Balayage du système de fichiers à la recherche de documents Office (.xls, .xlsx, .doc, .docx)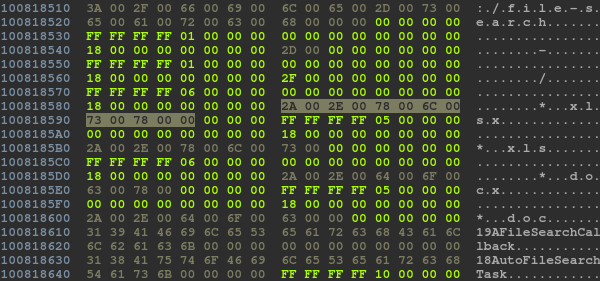 L'individu malintentionné qui gère le serveur de commande peut également ses propres filtres pour les fichiers afin d'améliorer l'efficacité de la surveillance du système de fichiers, voire exécuter des commandes arbitraires dans le système infecté.
Comme sur les autres plateformes, si le serveur de commande est inaccessible pour une raison quelconque, le malware crée des fichiers temporaires qui contiennent les données qu'il a récoltées.
$TMPDIR/ss0-DDMMyy-HHmmss-nnn.sst (captures d'écran)
$TMPDIR/aa0-DDMMyy-HHmmss-nnn.aat (interception de l'audio)
$TMPDIR/kk0-DDMMyy-HHmmss-nnn.kkt (interception des frappes au clavier)
$TMPDIR/dd0-DDMMyy-HHmmss-nnn.ddt (données arbitraires)
DDMMyy = date : 070916 = 2016-09-07
HHmmss = heure : 154411 = 15:44:11
nnn = millisecondes.
If the environment variable $TMPDIR is not defined, « /tmp/ » is used as the location (http://doc.qt.io/qt-4.8/qdir.html#tempPath).
Si la variable d'environnement $TMPDIR n'est pas définie, « /tmp/ » est utilisé en tant qu'emplacement (http://doc.qt.io/qt-4.8/qdir.html#tempPath).
Commentaires de l'auteur
Comme la dernière fois, le créateur du malware a laissé des liens vers les fichiers source correspondants.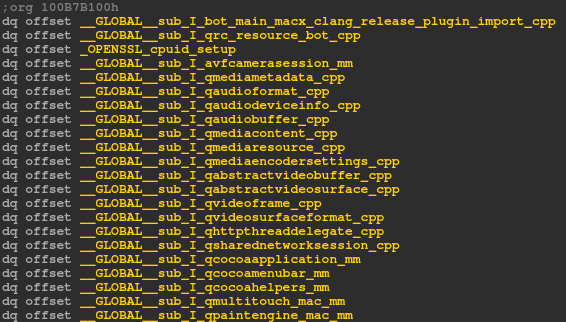 Détection
Les produits de Kaspersky Lab détectent ce type de malware sous le verdict HEUR:Backdoor.OSX.Mokes.a.
Indices de compromission
Hash :
664e0a048f61a76145b55d1f1a5714606953d69edccec5228017eb546049dc8c
Noms des fichiers :
$HOME/LibraryApp Store/storeuserd
$HOME/Library/com.apple.spotlight/SpotlightHelper
$HOME/Library/Dock/com.apple.dock.cache
$HOME/Library/Skype/SkypeHelper
$HOME/Library/Dropbox/DropboxCache
$HOME/Library/Google/Chrome/nacld
$HOME/Library/Firefox/Profiles/profiled
$HOME/Library/LaunchAgents/$filename.plist
$TMPDIR/ss*-$date-$time-$ms.sst
$TMPDIR/aa*-$date-$time-$ms.aat
$TMPDIR/kk*-$date-$time-$ms.kkt
$TMPDIR/dd*-$date-$time-$ms.ddt
Hôtes :
158.69.241[.]141
jikenick12and67[.]com
cameforcameand33212[.]com
Agent utilisateur :
Mozilla/5.0 (Macintosh ; Intel Mac OS X 10_9_3) AppleWebKit/537.75.14 (KHTML, comme Gecko) Version/7.0.3 Safari/7046A194A